UNIQUE BAGPIPES has ist beginnings in 1999 when Bernd began an apprenticeship as cabinetmaker which he finished in 2002 as top of the Schreinerinnung (cabinetmaker's guild) Ulm/Ehingen. During this time he took up woodturning and got his first exposure to rotational woodworking.
In conversations at workshops about his profession the common theme was always: "One day you can build your own bagpipes."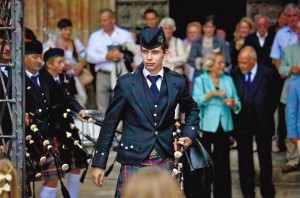 The idea took root and about two years later he started gathering materials and built his first bagpipe, using alternativ ivory and stainless steel for the mountings.
A few years later his demand for sound had grown considerably and he ventured on to his second pipe with marked improvements in sound and tuneability. Materials used were African Blackwood, hand engraved sterling silver mountings and alternativ ivory.
Even though he received very good remarks for ist sound at competitions, about 2-3 years later he wasn't satisfied with the bass drone's tuneability anymore. In 2009 he built his current pipe, changing the bores ones again. This pipe is until now a totally unique piece made from Arizona-Dessert-Ironwood, finest hand-engraved sterling silver mountings and real ivory mounts( legally purchased)
The pleasure of building the highest-standard bagpipes and growing demand for repairs and manufacture of spare parts led Bernd to establish UNIQUE BAGPIPES in 2013.
The goal of UNIQUE BAGPIPES is to provide high quality and fast all-round-service for Great Highland Bagpipes as well as first-class and unique newly manufactured bagpipes